The series Leuven Library of Music in Facsimile from the Alamire Foundation, with David Burn and Bart Demuyt as its general editors, presents high-quality reproductions of primary music sources of outstanding aesthetic, historical and cultural value. The series is broadly conceived, covering monophony and polyphony, both vocal and instrumental, from the Middle Ages, the Renaissance and later times. In order to approach the original documents as closely as possible, each facsimile is in full colour and at original size. Each is also accompanied by an extended commentary, written by a leading expert, that sets out the most recent and up-to-date assessment of the source, including codicology, contents, history and context.
LLMF Vol. 1 Leuven Chansonnier Facsimile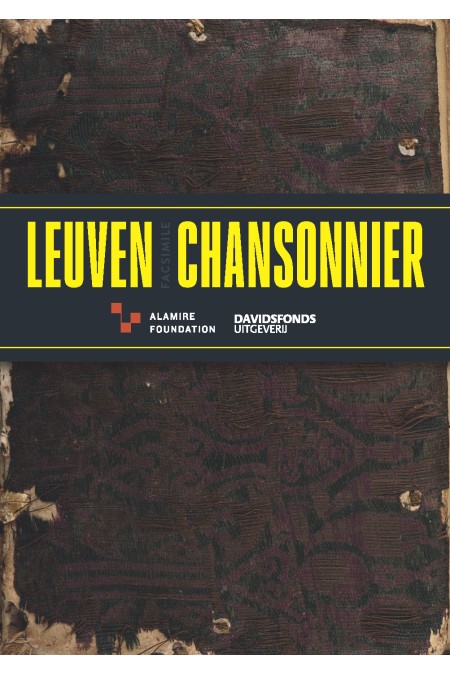 LLMF Vol. 1 Leuven Chansonnier Facsimile
The facsimile of the Leuven Chansonnier, Leuven Library of Music in Facsimile Vol.1
This facsimile is only available together with the accompanying Study.
Price of the set is €60,-
€ 

35.00
In shopping cart
Description
In 2014 a small Brussels auction-house sold a lot containing a statue, an illuminated initial, and a song-book to a private art-dealer. The song-book was brought to the Alamire Foundation/KU Leuven Musicology Research Group for further investigation. The book, it turns out, is a previously entirely unknown late fifteenth-century chansonnier, complete and in its original cloth binding. The appearance of a new such source of any kind is extremely rare, and all the more so of one in unaltered form. It is almost a century since the last such discovery. The manuscript was acquired by intervention of the Léon Courtin – Marcelle Bouché Fund, a fund which is administered by the King Baudouin Foundation, and handed over to the Alamire Foundation, International Centre for the Study of Music in the Low Countries, by means of a long-term loan.
Both repertoire and physical characteristics date the source to the last quarter of the fifteenth century, and mark the source as a prestigious and personal object for wealthy nobility. The Leuven Chansonnier is thus an extremely important discovery in at least four respects: it deepens knowledge of the ways in which fifteenth-century song was consumed; it deepens knowledge of the circulation of fifteenth-century courtly song; it provides a new witness for known works, including the most popular songs of the time; and it adds no less than twelve new pieces to the fifteenth-century song repertory.
Specifications
Author:

David Burn

ISBN:

9789059088962

Year:

2017

Type:

Hard Cover

Pages:

196

Dimensions (LxWxH in mm):

129 mm x 95 mm

Weight in kg:

0.3