Catalogue of Notated Office Manuscripts Preserved in Flanders (c. 1100 - c. 1800) Vol.1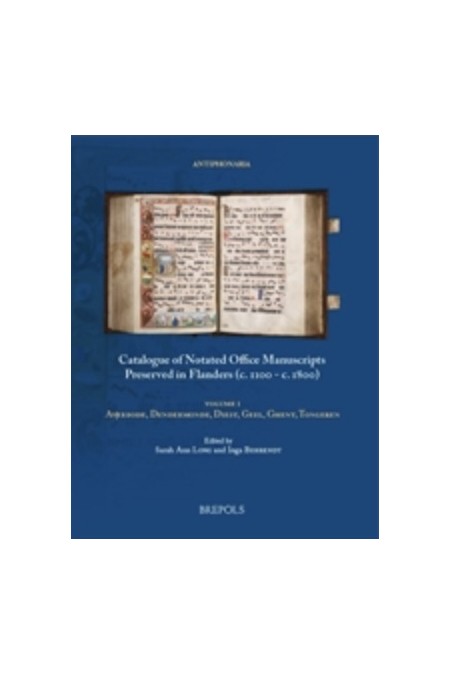 Catalogue of Notated Office Manuscripts Preserved in Flanders (c. 1100 - c. 1800) Vol.1
Antiphoners held in Flanders
€ 

78.65
Description
This volume presents a collection of manuscript antiphoners and other liturgical books containing music from the archives of Averbode, Dendermonde, Geel, Ghent, and Tongeren, from 1100 until 1800.
The present catalogue of manuscript antiphoners and other office books containing music in the collections of Averbode, Dendermonde, Diest, Geel, Ghent, and Tongeren is the first in the series Antiphonaria: A Catalogue of Notated Office Manuscripts Preserved in Flanders (c.1100–c.1800). Antiphonaria is meant to aid scholars in all areas of medieval studies with their exploration of liturgical practices in the Low Countries.
The books in this volume represent those currently held at the abbey archives in Averbode, which houses one of the most cohesive Premonstratensian collections in the Low Countries; the Sint-Pieter en Paulus Abdij in Dendermonde, which preserves the earliest source for the music of Hildegard of Bingen; the Sint-Sulpitiuskerk in Diest; the Archief Sint-Dimpnakerk in Geel, whose holdings include one of the few surviving sixteenth-century antiphoners for a secular church; several archives in Ghent, including the Universiteitsbibliotheek, the Sint-Baafskathedraal, the Musea voor Schone Kunsten, and the Rijksarchief; and the Onze-Lieve-Vrouwebasiliek in Tongeren, which holds one of the most substantial and homogeneous groups of sources from a collegiate church in the Low Countries.
An introduction presents a summary of each collection and the parameters of the inventories. Each catalogue entry contains a codicological description of the manuscript; a detailed description of its origin, usage, and history; and a full inventory of its contents, giving special attention to the hymns, first Matins responsories, and first Lauds antiphons, all indexed at the end of the volume.
Specifications
Author:

Sarah Long, Inga Berendt (eds.), Guest Contributors: Nele Gabriels, Kate Helsen, Kristin Hoefener, Debra Lacoste, Pieter Mannaerts, Miriam Monroe Wendling, Anton Stingl Jr., Karin Strinnholm Lagergren, Hendrik Vanden Abeele

ISBN:

978-2-503-54278-2

Year:

2015

Pages:

170

Dimensions (LxWxH in mm):

216 x 280 mm